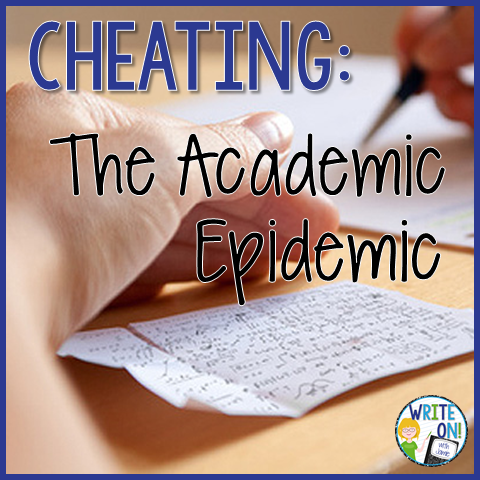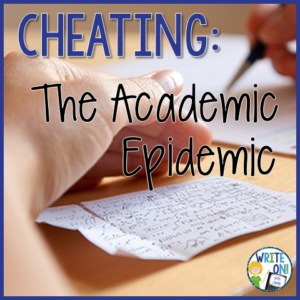 Benjamin Franklin once famously stated, "Honesty is the best policy." Yet it seems as though people seem to drift further and further away from this belief and nowhere is this more evident than in the classroom. Cheating in school has been happening as long as there has been school. The difference is that now it seems to be ignored, accepted, or rationalized. That's not how I remember cheating being dealt with when I was a kid. If you were caught cheating, it resulted in a conference, a parent phone call, and usually a butt paddling. Now, teachers have to convince parents who will deny that their precious pumpkin would ever cheat. And I mean they will deny in the face of evidence that would make a prosecuting attorney dance with joy. Let me give you an example. By the way, all the stories told tonight are completely and 100% true. The names may be changed to protect the cheaters and their gullible parents.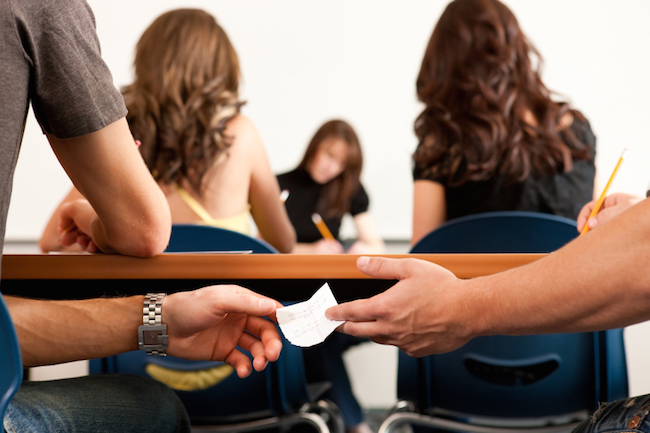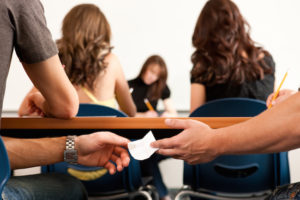 I have a friend who gave her students a poetry assignment. They were to write a poem on the assigned topic that adhered to certain elements discussed in class. Well, as a teacher, especially an ELA teacher, we start to know our students' writing styles. This student was no exception. So, when he turned in a poem worthy of publication, my friend became suspicious. She did a quick Google search of the first line of the poem, and lo and behold, there was the poem he turned in – WORD FOR WORD. Now, you would think this is an easy one, right. The kid receives a zero on the assignments and learns a valuable lesson? Right? Wrong. Mom was in there the next day indignant and offended that my friend would dare accuse her child of cheating. She swore up and down that she sat with him the whole time he wrote it, and there was no way he could have copied it.
Are We Doing What is Best?
And, it's attitudes like that that have led to these incredibly discouraging statistics. Rutgers University surveyed 24000 students at 70 high schools and found that 64% of students admitted to cheating on a test, 58% admitted to plagiarism, and 95% said they had cheated in some form, whether it was on a test, plagiarism, or copying homework.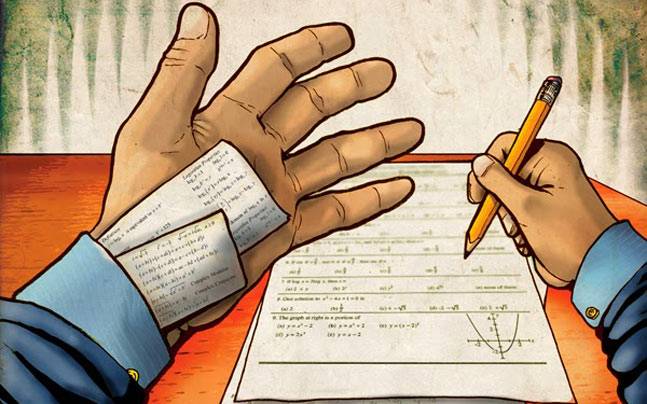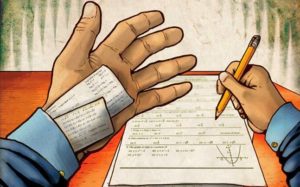 Here's the thing. Kids are going to cheat and they're going to cheat for various reasons. They might just be too lazy to do the work or there might be something happening in the home that prevents it. But as long as there is no consequence, it will continue to happen. With all of the major problems happening in schools, and I mean things like school shootings, fights, drugs, teachers and students being threatened, etc. cheating does seem to slip a few rungs down on the ladder of importance, but are we really doing what's best for our students by letting this slide by?
I'm going to go with a resounding NO! Because of this, I try and incorporate teaching the importance of honesty in various assignments. To begin, I ask my students to define honesty in their own words. Their answers invariably focus simply on the spoken word – basically, telling the truth. However, when I pose certain situations, ie. finding money and not turning it in, cheating in school, filling out an application with false information, etc. they are forced to look deeper at what honesty truly is and the long-term impacts of being dishonest in even the most innocuous of situations.
We discuss literary characters whose lies had grave consequences (Edmund – The Lion, the Witch and the Wardrobe, Gatsby in The Great Gatsby, Trickster Gods in Mythology, etc.) and how the stories would have turned out differently if they had been honest. This provides an excellent opportunity to discuss point of view in literature.
I like to bring up the concept of an unreliable narrator and how they cannot be counted on to tell the truth. Of course, Edgar Allen Poe is the perfect complement to this type of discussion. Almost any of his short stories will lend themselves to this, but I especially love using "Tell-Tale Heart". Plus, it's a fun story to read aloud to students – with the lights out, naturally.
Give Them a Chance to Write
Finally, I wrap up the unit with an essay focusing on an honesty-based topic that is a dilemma faced by all students – Cheating in School. This argumentative prompt for both high school and middle school allows students to openly discuss why students cheat, what they have personally witnessed, and whether they believe students caught cheating should face consequences. The class discussion that results from this is incredibly eye-opening. I've found that often students truly don't understand that just copying something from the internet is plagiarism. And that copying another student's homework isn't cheating. Hopefully, at the end of the unit, students will have a better understanding of why, "Honesty is the best policy".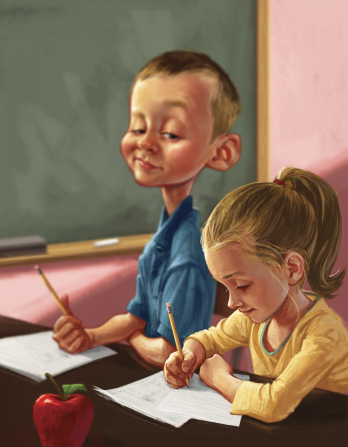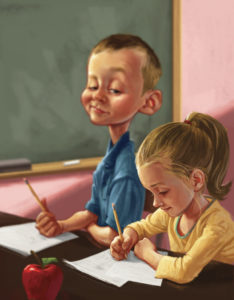 Unfortunately, they don't always learn from this unit. I remember one time when I was giving a test in class. My cheating policy is pretty straight forward, if you get caught cheating, I put a zero on your paper and a note that says See Me. So, I realized that a student had cheated on his test, put the zero and the see me note. He came up, full of indignation and excuses. "Why did I get a zero?" You cheated. "No, I didn't. I swear to God." At this point, I always tell them to step back a couple of paces because I don't want to be in the Struck Down fallout zone. Finally, he asked the question I had been waiting for. "Why do you think I cheated?" So, I showed him the answer to number 14 on the test of the girl who sat in front of him. She had written "I don't know." Then I showed him his answer to number 14. He had written "Me either."  At least he had the good grace to look sheepish.
Now, you might be thinking, "Oh, come on Jamie. How often does that actually happen?" Ah, dear reader, far more frequently than you can believe. ELA teachers know that extended response questions don't have an answer in the teacher's edition, it just has the phrase "Answers will vary." I had a student who kept coming up during a test and asking the most inane questions. He was sneaking peeks at my teacher edition, but since it was an essay test, I didn't think anything of it, until he turned in his answer sheet. You guessed it. All of the questions were answered with "Answers will vary."
Talk to Students About Cheating
How do we go about talking to our students about cheating, both what it is and why it's wrong? First, don't assume your child knows the difference between paraphrasing and plagiarizing, Explain why it is important to give credit to the person who actually did the work.
Next, discuss how cheating can have a detrimental effect on their academic career. It can cause others to see them as less than honest, and it will hurt their relationships with their teachers.
Finally, get to the bottom of the reasons why they are cheating. Is it that they don't understand the material? If so, have they asked for help? Is it that they don't have enough time to do the work? If so, maybe they are involved in too many extra-curricular activities, or they need additional time in class. It has been my experience that usually the reason for cheating is laziness, pure, plain, and simple. If so, don't make excuses for the child. If you are the parent, suck it up and parent! This means some form of discipline. If you are the teacher, same thing. Suck it up and teacher! You are probably going to have a big ol' conference on your hands with excuses galore, but you owe it to the child to stand firm and let him or her know that what they did was wrong and won't help them in the future.
Although a zero and a detention for plagiarism might seem like the end of the world to a student at the time, later, in the real world, that same incident could end in being fired. Cheating my be an rampant in our schools right now, but parents and teachers working together have the ability to reverse this academic epidemic, one child at a time.